Thu 2/25/10
Hello everyone,
I am Nathalie, shopper extraordinaire and a fashion addict here on Second Life.
But shopping can be so exhausting!
Well, fear not, I have the cure and I want to share it with you.
But first, let me just give a shout out to Carmichael Caudron.
I am so honored, to be offered the opportunity to write and share a few thoughts with you all, today.
In these modern times we are all consumed by everyday life.
We are always running. Running to the stores, running at work, running back home, running....everywhere.
The stress that builds really does need a way to be diffused. You know, let off some steam!
Once, after a bad day at my RL job and a difficult time on SL during the evening, I was sorely in need of some kind of relaxation.
What's that you say?, relaxing on SL?
There should be lot of options available, right? But, to find the right one.....After a little searching I found something interesting.
Skiing. Wow, a great idea!
A click here, a rez there, and I was in a splendid winter sim called: Alpine Support Center at Meeting Support.
What a wonderful winter sim.
I could not resist visiting the small shops there, where for less then 200L$ you be wearing nice goggles and skis or snowboards from Zagoskin Ski Shop or Berg Ski & Snowboard Shop.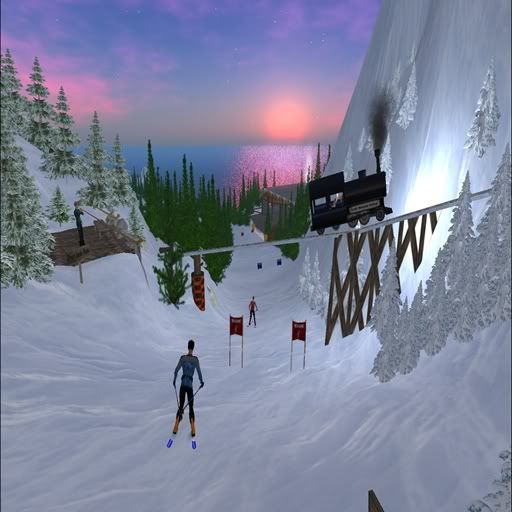 Cog Train
Ah!, now I was ready to step in the the chairlift.
There is a statue of Sondre Norheim the inventor of the Ski jumping,the owner of Bergs Ski Shop is in real life the owner of Bergs Ski shop in Eugene Oregon, And he is of Norwegian heritage, proudly replied TonyEMS Heying the owner and builder of the sim.
Viewing the scenery up the hill is fantastic, a great landscape build.
Inspired, I am sure from my many years living and working in Switzerland said TonyEMS the creator of the sim :
"It has turned into a "labor of Love" if you know what I mean.
The first outside development was the skiing with timed ski runs and then the train that goes into the mountain complex. I was a brakeman on the railroad all through my university years, so the train was a "must have" for me", said Tony.
Tony, in his early 60's, recently moved to San Francisco from Switzerland.
"Also, I have had many years of experience working with remote teams", he said, "All the stuff you see is meant to contribute the feeling of the ski resort place. So I realized the benefit of having a facility that created that "sense of place". I decided to keep it open to the public so that's more people could find out about this service.
I only close it for clients that request the privacy during a particular meeting."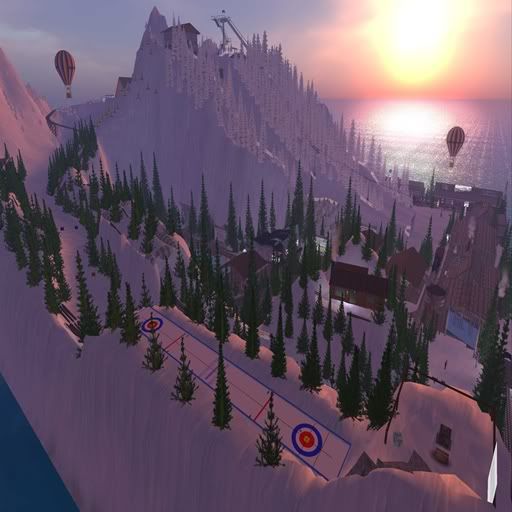 Sunset
Yes, Alpine is more then a ski station, it's a ski resort for company executive people.
They provide, to their customers, meetings facilities in a unique setting, a destination that can be relaxing and constructive.
The Meetings Facilities are: Main Amphitheater, Glacier Room-1, Glacier Room-2, Exhibition Hall and Development Center, Break through Area, Central Ramada and Apres Ski Lodge.
Tony adds, "The ambiance of the ski resort winter environment contributes to the comfort level while working in the virtual world."
"We arrange and facilitate your events in a way that promises the best results possible. Each facility is equipped with audiovisual aids for presentations and multimedia tools for voice and film clips."
Business Meetings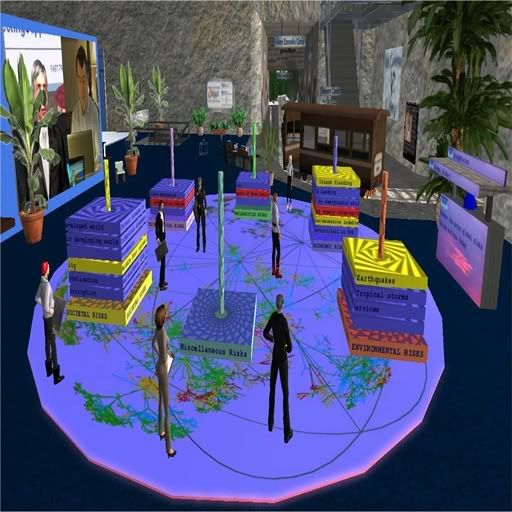 Brainstorming
Alpine Executive Center also provide tools for their participant:
Brainstorm Categorizer, Voting Floor Platform, Vote Post Tow Choices yes -no, Vote post Multi choice, Brainstorm post, Dynamic Vote Board and Private Area Space Enclosure.
Alpine Executive Center also possess it's own Art Gallery.
The Ice Caverns Gallery was created with the purpose of presenting, to residents of Second Life, all forms of modern arts in-world.
They currently accept 4 or 5 exhibitors at the same time but we may consider that over 50 artists were exposing their art at Ice Cavern since the opening of the Center.
Presenting events like Ice Sculpture Exhibits, Products launch, Relay for life, Birthday Party, with great names as Sun Microsystems, Iowa State University, USC Project Voting, Unisys Corporation, MAIS Association, University of Houston, Hong Kong Net Universities Alpine Executive Center is very well positioned to grow in popularity in the future.
Alpine Center is a great stop to make on your SL tour.
No matter if you are with your company or association for one of those great constructive meetings or even if you only are there skiing with some few friends, in the end, the positive result on your Si psyche might just be what the doctor ordered.
PS, "I have to get back there. I saw this cute little snow bunny outfit I just have to have!"
Story by nathalie Ember for Oi Magazine blog/press