Tue 2/16/10
There's one word to describe the Fantasy of Fashion show produced by Swirl, a marketing firm dedicated to Second Life's fashion industry. That single word is: WOW! This clever and unique fashion show opened over Valentine's Day weekend and what a phenomenal event it turned out to be.
I've attended a number of fashion shows in RL and SL, but never one so creative as Swirl's Fantasy of Fashion. Take a fantasy theme, mix in a generous portion of gorgeous fashion, stir in some eye-candy models on an elaborately set stage, and you get one incredible tasty dish of SL haute couture.
Saturday's opening night,February 13th, was a magical one. A breathtaking fairy garden complete with cascading waterfall created an impressive backdrop for the event.
Filipa Thespian as The Water Nymph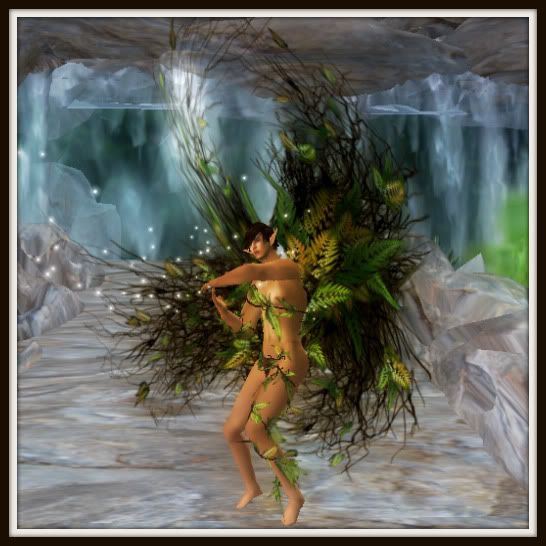 Takeshi Kiama as Odin the Fairy King
Filipa Thespian, owner and founder of Swirl, appeared on stage in her role as the Water Nymph to expertly present each design as it was modeled for a mesmerized audience.
Filipa, as well as the models, had roles in a performance that was equal parts fantasy play and fashion show. What made this show particularly clever is that the fashions introduced were geared toward the fantasy role-playing residents of Second Life. So a scripted story accompanied the narration of each design and was strung together like a fairytale.
The plot told of the Wizard Lodin, who had strayed from the ways of fashion. Lodin was played by model Travis Madrigal and entered the stage as a newbie avatar being scolded by the Sorceress Queen Marielle, played by model Tatiana Kurri.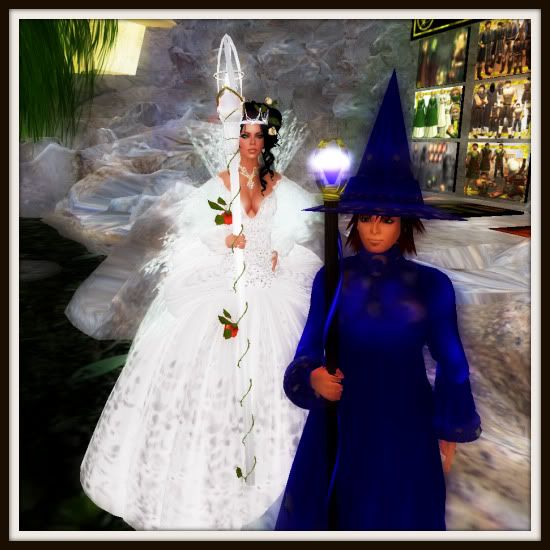 Tatiana Kurri as Marielle the Sorceress Queen and Travis Madrigal as Lodin the Wizard
Marielle has taken away his wizard powers and plans to show him the error of his ways by introducing him to beautiful fashion.
The wizardress Valgran, played by model Pyper Dollinger, was also at fault for letting herself go, and Marielle promised that she, too, would learn the path to good fashion sense.
Here's an example of some of the narrative:

"The Water Nymph welcomes Mer-Elf's Wish: Once upon a time in a distant land, a peasant girl wished she could have a lovely gown to wear to the ball.
Else were an elven princess got ready to meet with ambassadors from a neighboring kingdom and wished to find the perfect dress.
A kajira wished to please her master and in return get some new rags or silks.
A free woman wished for the latest new dress to wear.
A fairy flew by and granted all their wishes! For this collection has it all!

Wish is a deep, rich velvet gown geared toward elves and upper class medieval women.
Intricate golden embroidery accents the low-cut neckline, which dips to a V in the back.
It's great for upcoming spring and summer, and includes a hooded cloak to wear on cold days. Also included are a gleaming prim waist belt and circlet, and two skirt and sleeve options.
The wish fantasy add-on pack includes a wider ball gown skirt, short fairy skirt, gorean camisks, and dancing silks along with modesty layers and veils for free women."
The Pyramid Theater was filled with over 60 avatars, so lag was considerable. Add that to the intricate textures of clothing and the particles poofing from elaborate wings of dancing fairy models, and you get slow rezzing. It was necessary to rebake textures a number of times, and I had to hold my cam in one place so as not to crash. Some members of the audience did crash, as well as a model or two, but all in all it was a beautiful display of creative energy from some of SL's most innovative designers.
The show featured designs from Black Rose, Gutter Pup, Lace & Steel, Mer-Elf Creations, Moonstruck and Mystic Sky. Sponsors of the show included Best of Second Life Magazine, Designs by Nicky Ree, and Dark Starr Merchantile.
The fashions displayed ran the gamut from amazing fairy designs to Roman-inspired suits, elegant ball gowns to modest peasant garments, and rugged warrior attire to seductive slave silks. These styles would appeal to role players of the Gor persuasion or those leaning toward medieval fantasy. The variety was lovely and presented well.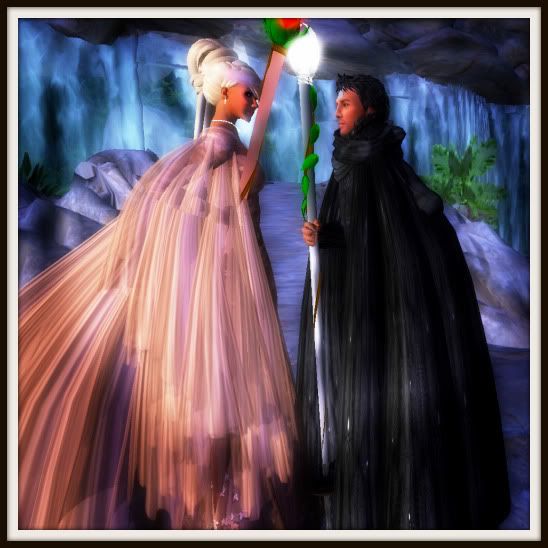 Pyper Dollinger as Valgren and Travis Madrigal as Lodin
The show lasted two hours, and at the end, both Lodin and Valgren had learned their lessons and the Sorceress Queen Marielle granted them the return of their wizard powers.
The two models appeared on stage as complete makeovers that had the audience gasping in their seats.
Valgren had become a exquisite example of beauty wearing a "stunning salmon-colored frock adorned with the gentle reminder of nature, leaves embroidered throughout." And Lodin was devastatingly handsome in his dark wizard robes and impressive glowing staff. The two characters were reunited in love and stylish fashion.
For information about future Swirl events, and to see more of the fashions presented at the Fantasy in Fashion show, visit
http://www.giveitaswirl.info
If you would like to view more photos of the event, click to go to my personal flick page!
http://www.flickr.com/photos/chalicepiers/
TY for reading & also like to thank Filipa Thespian for her courtesy to allow Oi Magazine to cover this Swirl™ event for its blog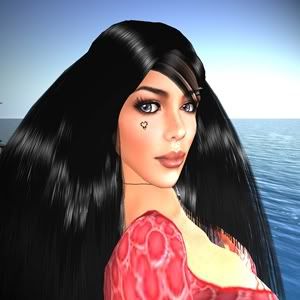 Story by Chalice Piers,Oi Magazine Press Blogger