Wed 3/10/10
Phaylen Fairchild's Academy Awards pre-show event at the Bijou Theater in Second Life ( Bay City-Rollers region)on March 7 coincided with the actual event taking place in L.A.
As the real world Hollywood show simulcasted live inside the theater, a few SL™ fashionistas strutted their stuff across the Bijou lobby's red carpet.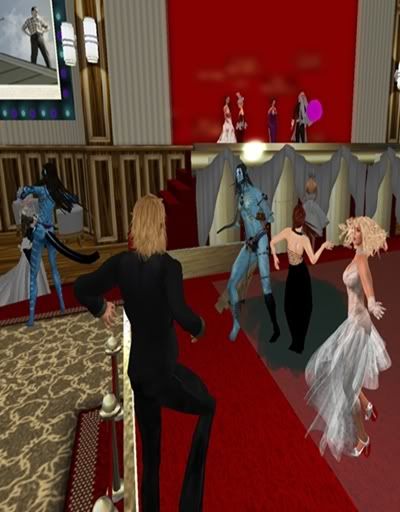 Party at the pre-show
Front of Bijou Theater
The Academy Awards™ is the place to see, and be seen by, some of the hottest names in the movie business.
The Oscars' pre-show event in Hollywood is all about dressing to impress and actors, writers and directors wear formal fashions created by such icons as Givency, Dior, Armani and Chanel.
But SL won't be out done in the fashion department.
We have our own Haute Couture, and this year's pre-show was the perfect venue to show it off.
I arrived early at the Bijou in Bay City to ensure I'd get a seat before the SIM had a chance to fill up.
The lag-a-licious mainland would be a strike against event-goers and I already felt the inevitable lag seep through my pixels before I fully rezzed.
While waiting outside the beautiful theater book-ended by two giant renderings of the Oscar statue, we were assaulted by griefers.
The horribly deformed avatars rode bikes over gown-wearing guests, and those not wearing some sort of movelock were bumped and tossed in the street.
Security would have been welcome for such a prestigious event, but since there was none, some of us submitted abuse reports to Linden Labs.
The griefers didn't stick around long.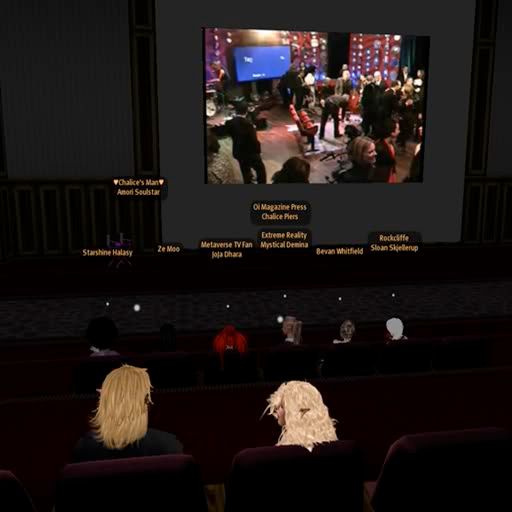 Me with my husband in the auditorium watching the show at Bjiou, with familiar faces in the press in the crowd as well such as Mystical Demina, Bevan Whitfield and Ze Moo
My husband and I sat inside the darkened theater, waiting for the show to start.
I'd hoped for movie trailers, and then realized this was the pre-show, which wasn't so much about film as it was about fashion.
I was surprised to hear people on the screen speaking Dutch, a language I don't understand, but that was to be expected as the pre-awards coverage was simulcasted via Amsterdam.
Once Hollywood's red carpet Glamourrati showed up on, the English-speaking media began interviewing the stars. Subtitled Dutch scrolled over the images of actors and actresses.
The sounds got a bit confusing as Dutch layered over spoken English, music filtered in from the lobby, and our host, Phaylen Fairchild, began interviewing a few of her best-dressed SL guests.
Phaylen and the theater's DJ, Thorne Miklos, stood on a platform in the lobby and used voice to speak with some guests about their personal choice of attire and their predictions for Oscar winners.
While stars and movie pros dress for the media as well as whoever may grant them their next multi-million dollar contract, we were dressed for ourselves and for each other. That's simply how SL rolls.
I wasn't getting much out of the chaos happening on the screen so we decided to venture out to the lobby, where the real action was taking place.
The lag hit us like a wave of molasses, but we persevered and made it out into the colorful lobby filled with lovely gowns, tuxedos, and… oh my.
Who should grace us with their presence but a few of the Na'Vi from the Academy Award nominated picture Avatar!
They looked awesome, just like in the movie.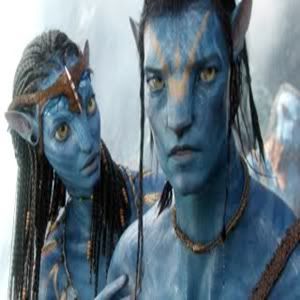 Avatar the favorite ended up with 3 awards,all in technical department,while
the hurtlocker took home the award for best director!
Avatar, by the way, was favored among guests to win the coveted Oscar.
But alas, in the end, Hurt Locker took it on several counts.
Here's some trivia from Phaylen: Catherine Bigalow, director of Hurt Locker, is Avatar director James Cameron's ex-wife!
Back to the red carpet… First up to the platform was Sasy Scarborough.
Sasy and Phaylen talked about how limited we are in terms of the prims we can wear, which contribute to lag in SL.
The increased ARC (Avatar Rendering Cost) can stop everyone in their tracks.
Phaylen admitted to being guilty on occasion of lagging out a client viewer.
She and Sasy also talked about how the men at the Oscars can dress down and still look good, though Robert Downy Junior got serious points marked down when he appeared on the Hollywood red carpet with his oversized blue bow tie, horn rimmed glasses, and sneakers.
A major fashion fail.
The classic looks for mature gentlemen like George Clooney, however, continue to prevail.
Moving on, Phaylen chatted with Tyrone and Delinda. Bling, or the lack thereof, came up as a fashion contention.
In SL's olden days, bling was the thing, but it's thankfully become a fashion faux pas.
It's a smart designer who scripts in the option of turning off the offensive flashing on boots, jewelry, and belt buckles.
Those wearing bling give themselves away that they're either wearing a retired freebie, or they dug through the bottom of their inventory.
Another interesting point made was how some guys at the Oscars match what their dates by wearing pocket squares and ties that are a similar color or fabric.
Dorian Cao is next up, and he has his own unique challenges when it comes to dressing for fancy events. He's a fox.
I don't mean the kind that's hot and good looking, which he may be, but the kind of fox that's small and furry.
He got his avatar from the popular Loco Poco supplier of tinies.
Dorian bedecked himself in an ultra small version of tux and cane, including top hat. Adorable.
Fatima Ur wore a luscious black wedding gown she customized to suit the look she was after.
And Maxie McBride accompanied her fashion designer daughter, Moxie Palono, who had designed the lovely gown worn by Phaylen herself.
Whimsy Winx, wearing a spring floral gown, told Phaylen that it's important to dress comfortable for such a long event as the Oscars, which can last up to eight hours or more. With the pre-show interviews, awards ceremony, and the parties afterward, the movie pros are faced with a long day and night.
A point made by both Whimsy and Phaylen is how there's rarely anything unexpected, fashion-wise, in real world Hollywood. Whereas here inworld, the sky's the limit.
Women tend to be far more daring.
My own gown, a white diamond studded creation from Solo and Solo of Icewerks, left little to the imagination.
Second Life fashion is an aspect of self-expression, a place where we can reveal our true selves with little regard to being judged by others. Or is that just me? she says, grinning broadly.
Despite the couple's dance ball not loaded with slow dances, some of us still managed to hop around the dance floor like kernels of popping corn.
Even the Na'Vi shook their blue bootays.
A good time was had by all.
As always, thank you for reading. Until next time… take care and have fun.
Chalice Piers, Journalist/Blogger for Oi Magazine