Sun 04/25/10
The Catalyst of Fantasy (COF) isn't just a modeling agency, or a modeling school, or a fashion sim.
COF is all of the above.
The founder of this amazing, multi-faceted institution is Lacie Beningborough, a former model and now a successful businesswoman.



Lacie Beningborough

I had the good fortune to meet with Lacie on the beautiful grounds of the COF Academy.
We settled ourselves on comfy chairs shaped like lovely stiletto shoes and had a fun chat that included gestures, amusing stories, and some serious points about Second Life®'s ever-changing fashion industry.

She is lovely and has a bubbly personality that made me feel right at home.
And I have to say the shoe chairs set the tone for a classroom atmosphere that would make learning a joy.
Her objective from the very beginning has been to make fashion fun.

Lacie started COF in August of 2009 with the goal of being different.
She achieved that and more.
As much as she has enjoyed running COF over the past few months, recent events in her personal life have prompted her to sell.
The sale is currently pending.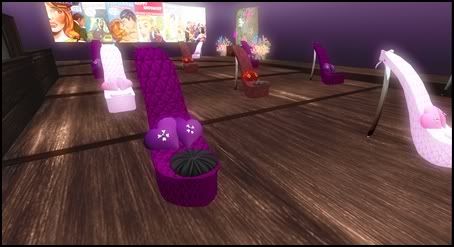 COF Classroom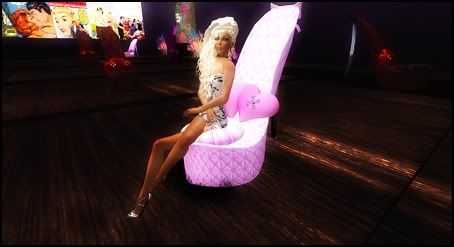 Lacie on Stiletto Chair

"This past winter my son was in a terrible accident and I had to take time off SL to go and be with him," Lacie told me.
"It was the darkest time in my life I suspect.
Fortunately, he has made a wonderful recovery and is well."

And now that he has recovered, Lacie is involved in a major move that's putting her within a five-hour drive from the city.
"We have a lovely little cottage on a lake and I am not entirely sure of the internet connection."
However, she's sure she can figure out a way to get it, even if she has to hook it up herself.

I asked her if she planned to continue her involvement with COF and she said, "Yes. I have been asked to stay on as COO and I have said yes.
I still love to create the shows, but this way my time is still mine."

Lacie's fashion shows are unique and entertaining.
"I have an RL background in fashion and fashion shows.
In RL, fashion shows are extreme," she told me.
"They have coined a term about my shows.
They call them 'Fashion Theater.'
I think they should be entertaining so that everyone on the grid, regardless of interest, would enjoy them."

Now that her business has sold, she's hoping she'll have more time to fully experience more of what SL has to offer the fashion industry.
"I have my head buried so deeply here working that I never get the chance to get out there and see what others are doing."

I've noticed with most of the fashion shows I've attended that lag is always a major issue, so I asked how she deals with it.
"We reduce draw distance... remove all prims from the screen so we look bald and darn near naked to ourselves, but to others we are fully dressed," she explained.
"But sometimes it cannot be avoided."



Lacie, close up

"We did a show once where the dresses alone had an ARC of over 18 K.
The models rocked it, purposely bald this time, with no jewelry or shoes, but awesome skins."
It was the precise look the show needed to reflect the style of the designs.
Grinning, she admitted no one knew it wasn't planned.
"The models here are true pros and they work around (lag) every time.
They performed the show like this because they couldn't move any other way."
She said it was a riot, but it worked.

"You gotta laugh, right?" Lacie said.
"That is the philosophy I built COF on.
This is, after all, a game, yes?
Games should be fun.
If you are not having fun then you need to re-think why you are here."

I asked her what her most unique and unusual show has been and she said, "Phantom of the Opera was awesome.
We worked with a creator of a couples animator to custom-make the walk the models used.
We rented a sim for the audience.
Sky Galaxy came in and performed the Phantom of the Opera theme."

When I asked Lacie how she comes up with her show ideas, she jokingly told me, "I stop taking my anti-psychotic medication and they just come to me."
I love her sense of humor!
But honestly, she says the designers inspire her.
"I get a feel for what they are trying to portray and then I just go with that."

"I mean, you can't put formal wear in a biker theme, can you?"
A few seconds later, she said, "Well, dang, yes you can!
This is SL, where you can do anything.
The whole idea is to have fun, enjoy yourself and have a good time."

"Modeling has changed since COF came around," Lacie said.
"You see a lot more funky skins and hairs in shows now.
I don't know if that is because of COF or if we just came in on the start of change, but if you ask me I will say it is because of COF."

Then she told me she loved my ears, as I am an elf, an example of the alternate styles and fashion that exist in SL.
"They are adorable," she said, making me blush.
"That is what SL is all about.
Why be normal?
We are normal in RL.
Well, some of us are anyway."
And then she smiled.
I asked what she advises models do to create a unique style.
"The deal is to not be afraid.
Don't worry about what your buddy is going to think or say, just have FUN, experiment.
Try new things."

Like wearing work boots with a formal gown? I asked her.

"YES!" she said.
"Why not?
Hollywood does.
The key for me is, why conform?
And if you are conforming… who are you conforming to and why?"
She went on to add, "When I started modeling eons ago, it was ALL about conforming, blending in, not standing out, and frankly it ticked me off big time.
Because it really is all about sticking out and not blending in."

So this prompted me to ask about shapes.
I wanted to know how, and why, a model chose a specific kind of shape because I've never had any shape other than the noob av SL first gave me.
I just sculpted it to fit how I wanted it to look.
"Ooh! You have done very well then.
Include a pic of yourself in the article because that is impressive.
You have proven the original can be tweaked... shapemakers beware, the secret is out!"
However, she actually advises anyone looking for a good shape to seek out a custom shapemaker and have one designed just for you.
"If you want to be yourself, you need a good shapemaker, or buy an off-the-rack one and modify it.
But never, never, never buy a no-mod shape."
A custom shape can cost anywhere from 5k to 15k.

I asked Lacie if she was the main teacher at the COF Academy, and she said, "No, that would be Glitter Bolissima."
She gave me the academy's class outline and its 3 tiered structure: Beginner Class, Advanced Class, and Advanced Elite Class.
The Elite class offers photography, choreography, creating your own poses, staging and more.
Advanced Elite classes are only offered once a week.
Lacie created Elite because she feels the less you need to rely on others, the better off you'll be, and this class teaches a model to be prepared for just about anything.

Regarding the COF Agency, Lacie is very firm about not allowing inflated egos into the fold.
"I tell all new model hires that I am the ONLY diva at COF.
If you need special attention or pull a tude.... I am certain other agencies are hiring.
Feel free to go there."
What a great policy.

Not only does Lacie run a successful agency and modeling school, she also represents a couple of SL musical artists, Bruce Scrabblebrat and Blue4U Nowicka.
I'm overwhelmed by how multitalented she is.

Even though Lacie no longer owns COF, rest assured she will remain at the helm and continue to produce wonderful fashion theater and help introduce new models to SL™'s fashion world.
Thank you, Lacie, for being such a delightful interview and putting a smile on my face.
And thank you, dear readers, for your continued support of the Oi Magazine blog.

Chalice Piers,reporting for Oi Magazine blog