Mon 04/12/10
We'd like to congratulate Magenta Plutonian, Oi's first Paparazzi Contest winner! We had some fabulous entries, and her photos were judged to be the best. The competition was tough, and we're looking forward to future contests that highlight some of the best photography talent in Second Life.®
I had an opportunity to interview Magenta after her win and she was gracious to answer my questions. Here's what she had to say:
Where are you from and how long have you been in Second Life?
MP (Magenta Plutonian):
I am from, and still live in, Cornwall (I have traced my Cornish family tree back to the 1600's and it would seem I am Cornish to the bone).
Cornwall is the bottom tip of the UK, surrounded by beautiful beaches.
I have been in SL™ since November 2008 and was introduced to it by my RL partner.
I had no interest in this world to start with, but slowly it has absorbed me more and more.


Magenta Plutonian, Top Paparazzi Photographer, also now herself a celebrity


Are you a photographer or artist in your first life?
MP: When I left school, I was accepted into Art College, which I studied for two years and found that I had a flair for colour.
Funnily enough it has not followed me in my career as I work with teenagers in care.

What an awesome and noble vocation! What made you decide to enter Oi's Paparazzi Contest?
MP: I have entered a few competitions before and found quickly that I did not enjoy the popularity-type voting as I hate nagging my friends to vote and they end up paying L$5-10 for their trouble.
This contest had a little more interest to it, not just making it a picture-taking contest, but an endurance one.
*laughs* I know Adianna and myself both made some sacrifices to be online at the given time slots.
I think the new easier rules will open it up to many more entries.

(Oi Magazine management would like to add that voters were never charged for voting in our contest,always completely free as we have sponsors like PurpleMoon Creations and more, supplying winners like Magenta their winning prize of 10,000 Lindens! for their efforts)

What did you enjoy most about the Paparazzi Contest?
MP: The contestants, Poulet and Persia, were amazing fun and they made the competition.
I had myself a lot of giggles in some of the shoots.
Also my fellow 'pappers' were a giggle to be with.
I know it was a competition, but I feel like I made some friends, which is always a bonus.


Absolutely, both Poulet and Persia were great subjects and a lot of fun to work with. What do you like about photography in Second life?
MP: Making a pixelated avatar come to life in a picture.
It's always a great feeling when someone really appreciates a picture you've taken of them.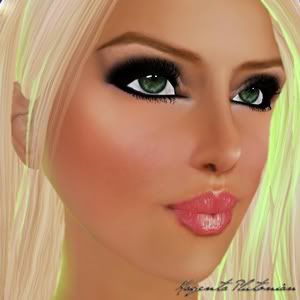 One of the 2 paparazzi pictures that gave Magenta her win! Celebrity journalist Persia Bravin is displayed here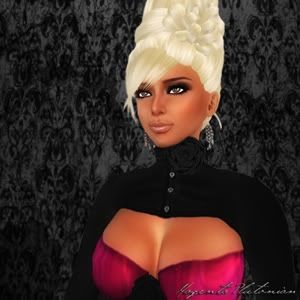 Other winning paparazzi picture, Fashion icon Poulet Koenkamp is displayed here

I couldn't agree more. Is SL photography more than a hobby for you?
MP: I don't think I will ever give up my day job. *smiles* But I think I use it to relax and as a little escapism from RL. It's nice to get creative

That's very true. SL offers many opportunities for creativity, and Oi's Paparazzi Contest added some whimsy as well. What kinds of photos do you enjoy taking?
MP: Dramatic portraits that reflect an individual's personality.


(Chalice Piers,Oi Magazine reporter *Nods Yes* and asks)
Can you offer some SL photography tips?
MP: Just play around, be experimental and have fun.
PhotoLife 3 Studio is not only the best photographic studio in SL, but the group support is truly awesome.
It does not matter what timezone you are in, there is always someone to help out if you need it. (But it costs a fortune so may not be suited for the dabbling photographer.)

Do you use any specific windlight settings for your photos?
MP: Any photographer worth their lindens will use the windlight settings.
You don't drive a car in first gear only do you?

LOL! No, but I do have favorite windlight settings I prefer over the default. What do you put your graphics settings on before taking photos?
MP: For taking pictures I always set graphics to ultra, but you need a really good graphics card for this.
You must remember after taking your pictures to set it lower again, or you will be wondering why SL has gone super laggy.


Oh, yes. I've done that myself. What software do you use to edit your photos?
MP: I use Photoshop to clean up the edges.

Same here, and for special effects. What are some of your favorite photo editing techniques?
MP: I am always playing around in Photoshop, but to be honest I am a noobie at Photoshop, so am still learning the basics.
I just do what I feel is right for the picture and to be honest it's not always the same and sometimes a happy mistake.


I hear you. Photoshop is the best and I use it daily in my RL job.
So, Magenta, would you recommend the Oi Paparazzi contest to others?
MP: For sure! The organizer's were awesome, always helpful with queries.
The prize money is great and most of all its lots of fun!

Thank you so much for your time, Magenta. You're a talented photographer and we hope to see more entries from you in future Oi photography contests.

Thanks for reading, everyone! And I hope you decide to enter the next Oi Paparazzi Contest. It's loads of fun, you get to express your creativity, and you have a chance to win some lindens! I look forward to seeing your photos.

Chalice Piers, reporting for Oi Magazine blog