Tue 05/18/10
This is an article about the country Romania told by the real person behind one of SL's avatar who lives there in real life.
She also uses her own pictures to make it even more unique!
The avatar's name is reporter,Marrie Helendale
Enjoy :)




Brasov


I will start by asking you what comes into your mind when you hear this country's name? Still thinking?... Maybe you have heard of Dracula, Transylvania, Bucharest, People's House, Hagi, Mutu, Nadia Comaneci… Here is Romania how I see it
I start this virtual tour from the same location I started my first life journey: Brasov. As I was born in a mountain medieval town. I've always been attracted to such places and thank God there are plenty in my country.
I love this city, it's old style buildings and it's calm. You don't see the rush like in big crowded cities and can enjoy the view of snowy or green mountains even from the window. A curiosity of this city: it has the narrowest street in Eastern Europe. No wonder why I missed it all the time when I was looking for it, but after a long search finally I found it. Woot!
A good weekend trip is a hike on the surrounding mountains (Piatra Mare Mountain) or through the forest path till Poiana Brasov, a winter resort where ski fans come. I tried once to take skiing lessons, but the falls made me head to the skating rink.
From a place called "Belvedere", on the road side to Poiana Brasov this time, there's a lovely view of the city and can observe the old citadel up on the hill and its fortifications, now known as the old town.
The most popular place in Brasov is "Piata Sfatului" (Council Square), which has its name from the old city hall in the center, and "Biserica Neagra" (Black Church), an old Gothic church which got its name cause it has burned and it was all covered in black smoke. A similar destiny had "Turnul Negru" (Black Tower). This is the place where all the people have a rest after a shopping session either sitting by the fountain or at a cafe's terrace enjoying a flavored cup of coffee, a beer or an ice cream.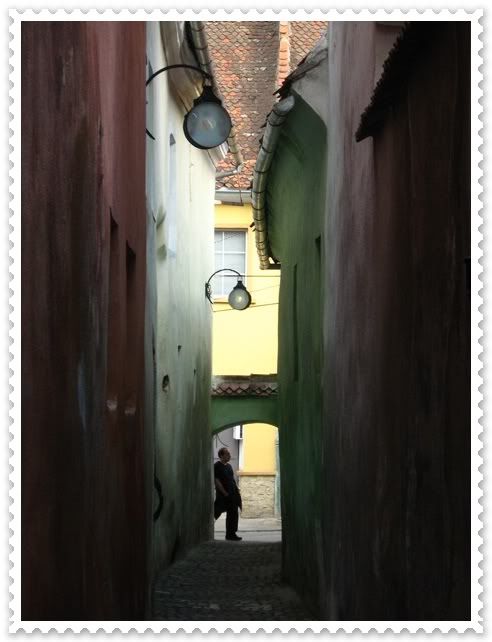 Brasov picture 2

Time to jump into the car, fasten seat belts and hit the roads. Next stop: Bran. On our way there we pass through Rasnov where we can observe the fortress from up on the left hill. When I visited the fortress I was touched at the sight of a cage which you could say it's a birds cage, but it's dimensions say it was not, but rather a prisoner's cage. Of course in SL I've seen plenty of those, but the feel is different when seeing a real one.
Bran. The name does not say much, isn't it? Just wait we go forth a bit and wonders will be vanished when the great castle arises in front. Also known as Dracula's castle this was actually the home of Vlad Tepes aka Vlad the Impaler. He is known by this name cause he used to be very cruel to the thieves and traitors whom he used to torture and kill by hanging them on spikes. Bloody, isn't it? Well he inspired Bram Stoker to write the book which we all know.
From here we continue the trip to Sibiu, which I like to say it's Brasov's twin brother cause they are much alike. Of course this is my opinion, others may not share it. Anyways…
Sibiu, since 2007, is known as an European Cultural Capital. Each year here are taking part different art events. I chose to go with my buddies to the ArtMania rock music Festival. If you come with your sweetheart in Sibiu, don't make promises on "Podul Minciunilor" (Lies Bridge), but ask a local citizen to tell you the story of it.
And cause I mentioned of festivals, one very popular is the Medieval Festival from the beautiful citadel Sighisoara, where the shining armor knights still meet the princesses, the troubadours charm with their songs, the painters reveal pretty portraits and scenery, and the merchants lure you to buy their old style souvenirs. And cause you are in the 21th century there are some modern influences like the rock concerts and the youngsters gather around guitar guys playing folk or rock songs. Eeeh, memories... /me smiles
Back on Earth. We are in Sibiu and we go North-West now, to Alba Iulia.
On our way we'll have a stop to Sarmisegetuza Regia, the oldest fortress in Romania, from where Romania's history began with our ancesters the Dacians. Now there are only a few rocks reminding of what once was and like any fortress they are well guarded by the mountains. To see them, must endure a one hour trip on foot on a forest path. Sarmisegetuza is now one of the Unesco World Heritage Sites along with Sigisoara, medieval fortified churches of Transylvania, painted monasteries of Bucovina and wooden churches of Maramures.
After the Roman wars in 101-102 and 105-106 the Sarmizegetusa Ulpia Traiana, the Roman citadel arised not very far from here, in the valley.
Alba Iulia has also a very important place in our history. Here is where the actual Romania was born as a country by the union of the Romanian regions. The town still has a scent of old, coming from the star shaped fortress, the cathedrals and the Union National Museum, where Romania's "birth certificate" was signed.
Not far from Alba Iulia there are Rametiului Gorges ("Cheile Rametiului"), a beautiful and mystical scenery only for the eyes of those who dare to face a rough way till there. This is the reason I mentioned of the "hidden" Romania, cause many beauties are hard to reach and not many mention about them.
Rametiului Gorges aren't the only ones in Romania. Other great gorges are "Cheile Bizacului" and "Cheile Nerei". We will continue our trip heading to the Nera's Gorges with one stop to Corvin's Castle.
A medieval castle, not as luxurious as Peles Castle from Sinaia, but majestic and much older, Corvin's Castle ("Castelul Corvinestilor" or "Castelul Huniazilor") takes you back in time wishing you were walking around the noblemen and court ladies.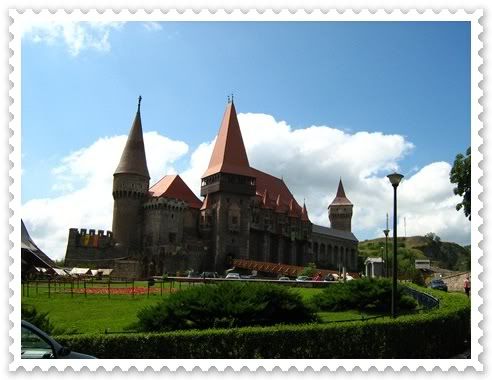 Corvin's Castle


From Corvin's Castle our road crosses Resita, an industrial town where the first steam locomotive was built. Now it is sitting on a pedestal in the Locomotive Museum. You cannot miss it as you can see it from the car too. I decided to stop though and take a closer look.
Finally arrived at Nera's Gorges, a wild place and great for adventures in the nature. Pitty I didn't have the time for them cause the place is vast and can't cover it all in one day. I still could see the Beusnita Waterfall which I was unlucky to see it dry cause of the lack of rains, but still gorgeous. It made me think of a rainforest. All the way, on the other side of the gorges there is Devil's Lake ("Lacul Dracului"), of a fascinating blue-green water color and known with this name due to the legend which goes like this:
Once upon a time… there was a prince and a beautiful princess…. Oh bummer, that's not the right story. Hehe. It actually goes like this:
It is said that the devil himself drown in that lake after a bet he made with a peasant / shepherd who was feeding the goats on a meadow nearby. The devil bet that the peasant couldn't fry a fish and stop it from bending. The peasant accepted with the condition that the devil fries him a goat head without making it to grin. The devil accepts the dare. So our peasant takes the fish and shoves a stick into the fish, then fries it and the fish remains straight. When his turn comes, the devil puts a goat's head on a stick to fry it and after a while the mouth stretches and lets the teeth show. Out of anger, the devil jumped in the lake.
Another local legend says that the lake has no bottom and it has many underground tunnels and those who dare to swim in it, are never coming back. I saw a tv show about that place and there were some divers who tried their luck though. They didn't die, but they said the lake is dangerous so don't try your luck in it.
Nature is in the same time gracious, strange and also dangerous. I like a lot to go on trips in the nature and Romania is gifted with all sorts of reliefs. From high mountains to the Delta Danube and sea shore. Most of my trips are on the mountains though and Bucegi is the most visited. I also been visiting Piatra Mare, Ciucas and Piatra Craiului. A strange place is represented by the Mud Volcanos from Berca, Buzau County.
There are many natural reservations and one is in Bucegi. There you may see some wild splendors like crocuses, edelweiss, black goats, bears, etc. Beware though of the bears, they have also become citizens of the near towns. They came down from the mountains looking for food and sometimes trashing and attacking tourists' tents and camps. I was lucky be in the car when I passed near a momma bear and her cub. If I were on foot I think I would have fainted, a pretty good way to play dead J.
And speaking of food, this time for humans, a few Romanian traditional food I like are "ciorba de perisoare" (meatball sour soup), "ciorba de burta" (beef belly soup), "mititei" or "mici" (meat rolls on barbeque), "varza calita" (cabbage dish) and papanasi (a specialty of donuts with sourcream and jam). A custom of country people is to eat bacon with onion and drink "tuica" or "palinca" (brandy most times made from plums) as an appetitive at breakfast or in the short breaks from the hard peasant's work. In most places in Transylvania you find yummy kurtos kalacs. It's a Hungarian specialty though, cause there are large Hungarian communities. The rest of the specialties I will let you discover yourself.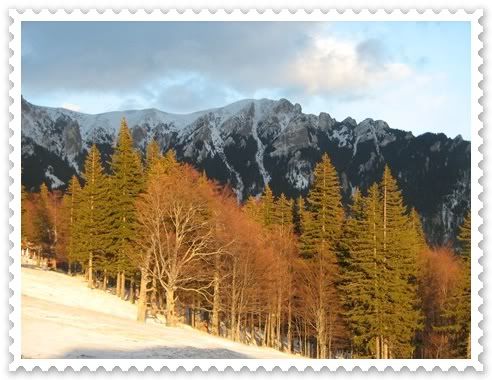 Ciucas Mount


When you come in Romania you won't be very pleased of the roads and if you are the driver you will have quite an adventure, but one not to be missed is Transfagarasan. It is spectacular due to it's altitude and difficulty. It crosses the highest mountains in Romania (Fagaras Mountains) which makes it the highest road too (at around 2000 meters). Have a break at Balea Lake and enjoy the view, from here the road looks like a snake crawling. Mind it's closed in winter time due to the snow danger, so you won't have any surprises.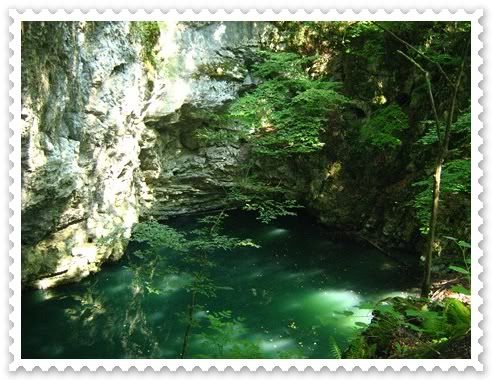 Nera's Gorges - Devil's Lake




Sarmisegetuza - Ulpia Traiana


Here ends my virtual tour for now. I hope you enjoyed the trip and if you wish to hear more stories, you may find me inworld or better have them told by a local on a trip in Romania.

Multumesc (that is thank you)
Feel free to comment :)

Reporting for Press Pass Media, my name is Marrie Helendale