Mon 05/17/10
Are you hesitant of downloading the latest SL Viewer from Linden Labs 2.0?
Hearing the negative comments spoken by current users?
Are you a current user of the latest SL Viewer 2.0?
Tired of the learning curve and new layout of it? Well, have I got news for you. I received a notice from the Starwalkers Group written by Ellendir Khandr on the latest viewer called Cool Viewer.

Now, I have been one of those resistant to upgrading from my version 1.20.
Call me crazy, but hearing all those talk about loosing items made me hug my inventory so tight you would have to tie me down kicking to upgrade.
The reason for my upgrading, honestly, was the new feature allowing your shoes to be worn without an invisprim.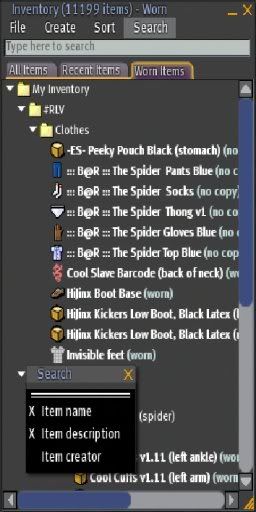 Inventory


Now, with the Cool Viewer you need to have the Linden Labs Second Life (LLSL) Viewer 1.23 installed on your computer already. Do not remove this. If you don't have this version, but an older one (like I did), you do need to upgrade to it.
Once you have, or if you have, 1.23, you download the Cool Viewer and install it.
This executable file will install into your Second Life program file and basically lie on top of the LLSL Viewer.
To download and install the LLSL Viewer 1.23 use this link -http://secondlife.com/support/downloads/.
To read about and install Cool Viewer use this link - http://sldev.free.fr/.
Now this link has all the information you need to read about and install versions for Windows and Linux.
If you want to install for Mac OS use this link - http://hyangreflections.blogspot.com/.




Area Search


Now you are wondering why you should do this. Well, to put it simply, the Cool Viewer will turn the LLSL Viewer 1.23 into the LLSL Viewer 2.0 and best part is....it will be the same viewer layout as 1.23.
So, no big learning curve to find where everything is.
The layout of your search, inventory, communication, preferences is the same.
Now, there are a few new layout features.
For instance, at the bottom menu bar your groups, friends, snapshot and build options now have a spot there. Also, the inventory search is more expansive and there is a built in radar. Also, in the inventory tab, not only do you have your standard inventory list and recent items tab, but you also have a worn items tab - this makes it easier to see what you're wearing without having to type worn in the inventory tab search.
Now, this is just a short preview of all the information and I highly recommend you visiting http://sldev.free.fr/ to learn more.




Animated Radar


Another feature is the implementation of RestrainedLove features which are disabled by default so you won't notice any difference with a "normal" viewer till you enable them manually.
RestrainedLove is aimed at BDSM fans in SL who wish to enhance their experience by letting other people (such as their owners) take control of some of their abilities.
In order to use its features, the Dom/me has to operate items (typically restraints) that the sub wears, but only the sub needs to use this viewer in that situation.
To learn more about this feature, please use the following link - http://sldev.free.fr/RestrainedLoveReadme.txt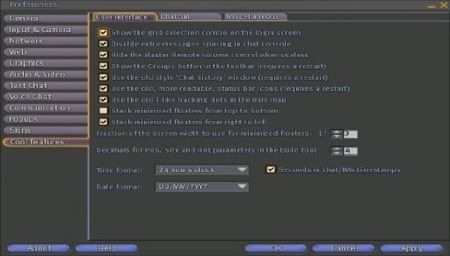 Animated Preferences


Hope this helps in providing another option to using the latest features of the LLSL Viewer 2.0 without actually using it.

*Note: All pictures provided from the Cool Viewer website at http://sldev.free.fr/ *


Ty for reading, my name is Jen Tafler, reporting for Press Pass Media